Autologous Micro Fat Grafting
---
 Micro fat Transfer Procedures
Autologous fat grafting, also known as fat transfer or microlipoinjection, can do wonders for adding volume to facial features, augmenting the lips, and recontouring the buttocks for a more shapely, youthful aesthetic.
The term autologous is simply defined as being derived or transferred from the same individual's body. In the autologous fat grafting procedure, a patient's own fat cells are harvested from other areas of the body and re-injected into the area which the patient wishes to enhance.  Since the process involves using your natural body fat, there is no need for allergy testing. Plus, fat transfer is known to have results that last longer than many cosmetic injectable fillers – in fact, permanent results are not unheard of. Dr. Hebert Lamblet is one of the few cosmetic surgeons in the world who specializes in fat grafting procedures and has been involved with clinical research for the past decade.
Request a consultation
The Autologous Fat Grafting Procedure
The autologous fat grafting procedure involves a multi-step process that begins with liposuction. Areas of the body with excess fat pockets – usually the midsection, thighs, hips, buttocks, or jowls – are treated with liposuction to harvest the fat cells. Once the fat cells have been collected, the next step involves the preparation of these harvested cells for injection into the area targeted for rejuvenation.  Using advanced techniques, Dr. Lamblet separates the regenerative fat cells known as ADC cells to ensure that only healthy undamaged cells are used during the re-injection procedure.
Prior to re-injection, the target areas may be treated with a local anesthetic if desired by the patient to make the procedure more comfortable. Finally, the  harvested and cleansed fat cells are then injected into the treatment area and results from the procedure are often immediately apparent. Patients can expect some mild swelling after the procedure; however, this is only temporary and should fade quickly. Fat transfer can typically be completed in just one office visit and most patients resume normal daily routines within the same day of the procedure or the day after.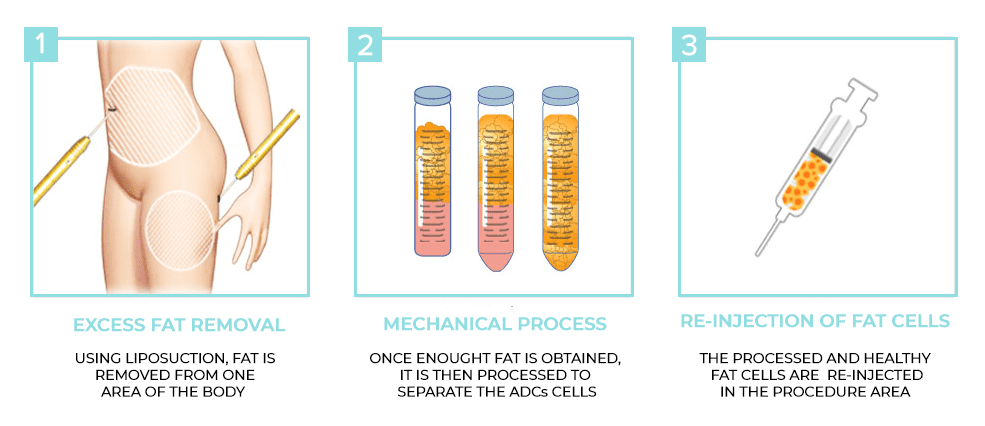 Autologous Fat Grafting Benefits
Fat grafting offers numerous benefits for patients who would like effective facial skin rejuvenation and enhancement, as well as those who would like to recontour the buttocks. These include:
No allergy testing.
Long-lasting results.
Added volume to facial features.
Reduction in the appearance of fine lines, wrinkles, and depressions in the face.
Enhancement and new contours in the buttocks.
Brazilian Butt Lift
Dr. Lamblet utilizes fat grafting for the popular Brazilian Butt Lift. This cosmetic enhancement procedure involves grafting fat via liposuction from another area of the body and injecting the fat cells into the buttocks for a more shapely appearance. The Brazilian Butt Lift with fat grafting gives the benefit of two procedures in one – liposuction and fat injection – which will provide you with a more complete cosmetic enhancement.
Learn more about Brazilian Butt Lift.